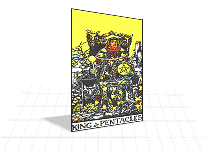 It Represents
Slow, steady and practical steps that bring success.
A grounded, practical, cautious and hard working nature.
A stubborn streak.
Love of home and comforts like, food, music, animals, nature and material things.
The danger of slipping into a rut and become too conventional.
A possibility of becoming prosperous and highly successful in a worldly sense.
Talk to tarot readers
Chat Now for Support