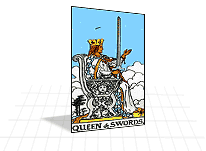 It Represents
A time to reflect upon current situations and past actions.
A need to observe a potential partner before committing oneself.
A subtle sense of humour.
A rational, clear thinking, patient personality, who is an excellent organiser and a shrewd judge of human nature.
A perfectionist.
Career interests like: administration, clerical & office work, business management, politics, medicine, law, science, publishing, editorial, proofreading.
Talk to tarot readers
Chat Now for Support